Perfect Support While You Sleep
A waterbed encourages good blood circulation with its full body support and therapeutic warmth. A perfect nights sleep.
A normal sprung mattress works as a result of the compression of the mattress in a downward direction, so is dependant upon your weight to give support. Waterbed mattresses will naturally compress downwards. However it will also displace upwards too! UP into your neck; UP into the small of your back and UP under your knees, thus giving even support to the whole of your body without any pressure points. You will experience a gentle resistance to your body weight, distributed equally throughout your whole body on a waterbed.
All of our waterbeds on sale are heated with an entirely safe, economical and controllable thermostat, allowing you to set the perfect temperature for your waterbed. You can even set two different temperatures and levels of support for you and your partner. Add one of our massage units to your waterbed and you will have the ultimate sleeping system.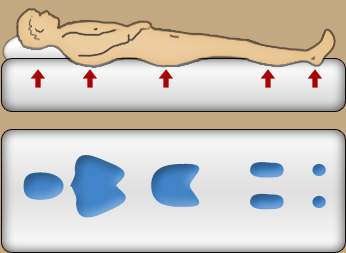 Normal Mattress
Your body weight is unevenly distributed to 5 main areas of your body. This creates pressure points in those areas, reducing blood circulation and inducing more tossing and turning. Over a prelonged period of time, this can lead to aches, pains and bed sores.



Pressure Points.


Weight distribution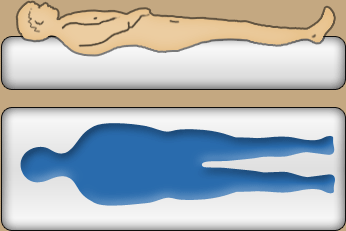 Waterbed Mattress
With a waterbed mattress, your body weight is evenly distributed across your whole body. The temperature is controlled to exactly how you want it. This improves your blood circulation, gently relieving all the strains of the day, allowing you to get a good full nights rest and wake up refreshed.



Weight distribution